Why BrainPop is a MUST-HAVE
Save for later
Reblog
Brainpop is an animated educational website directed towards kids in elementary school and below. For a small fee, you have access to over 100 educational videos on 7 educational topics ranging from language arts to social studies. And of course there's also the free videos just to test out the site.
What I like about Brainpop is that there is absolutely no political bias whatsoever, no agenda being given to students. Guns? Dangerous but law enforcement should have them if you want to live. Gays? They're out there, they're people, what about em? Communism? Where it has been tried it has failed; but there are some stable countries that exist today that claim to be communist. Sex Differences? They exist, what about em?
Brainpop does a great job at respectfully tackling topics that usually are tainted by the bias of the speaker. And while I'm 70% sure the founder of Brainpop is probably left leaning, that actually has never come out in any of the videos. Even their video on religion is very respectful, and only states the facts on the topic at the hand.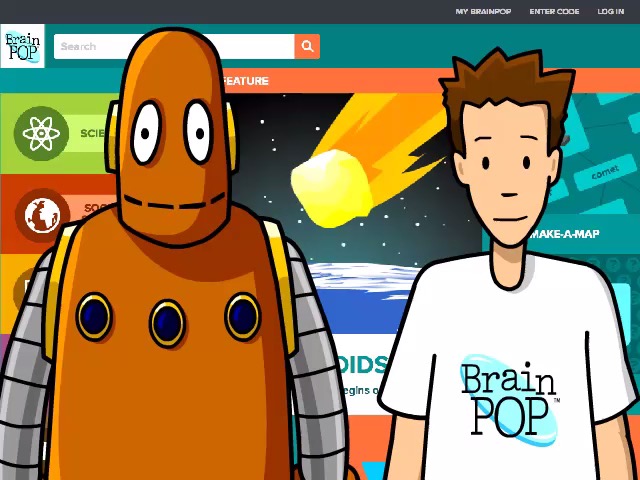 Brainpop has existed for almost 20 years (about as long as I have) and in that time, has remained reliably innocuous. I haven't once seen something about BrainPop I found that even mildly bothered me. Truly, its a great source of information and actually very entertaining to watch.
Often on YouTube we see big channels that claim to be about education, insert politics into their videos. When people claim Youtube will one day topple true educators – I scoff! They can't even control their own bias enough to realize, many consumers only watch them for fun!
While Youtube is a great source for the quick and dirty scoop, the videos on the site politicize issues far too often to be considered viable sources.
The example that everyone knows is when Crash Course claimed that human geography was racist and had no applications whatsoever. And when the fans said that Human Geography actually deserved an unbiased explanation, the founder of Crash Course gave the most hilarious response!
The founder said that all the anger was because people hated a woman in power, because the speaker in the video happened to be female. So the fans accuse you of politicizing things, and your first response was to politicize things! Hohohoho! THIS – is why Brainpop remains king. Because they are tactful with their responses, unlike these dime a dozen youtubers.
Now Crash Course was the biggest example, but you'll find most education based youtubers tend to exhibit strong bias as well. Usually, they act sly and let a passive aggressive comment slip like saying "World peace would be great, if only those damn Republicans understood that". What a joke! 
The only, vaguely controversial thing Brainpop has ever done, was use a female presenter when talking about the vagina. Some people like my younger brother, felt uncomfortable, like "Oh boy, if they want to change presenters this must be some taboo thing here"
And that's it. That's the most controversial thing Brainpop has ever done. Do you see why I love them? They don't attack the fans or stir up controversy. They rose to popularity on merit alone, and I respect them for it.
Brainpop is great, that's obvious. And as much as people want to believe they did something revolutionary, they really didn't!
They did not reinvent the wheel, they simply explained the wheel. Nothing more, and nothing less.
If I had to give this website a rating I'd give it a 10/10, bookmarked for further viewing! Its just my humble opinion as a fan, but this site is definetly a diamond in the rough. Here's a LINK to their site! I highly recommend you check them out, Ciao!
DEMOCRATIZING NEWS!
Be part of something bigger! Linkyou is the News Platform Edited and Curated by people like You. We are policially unaligned, so, you will definitely have your say on our sites. Linkyou allows you complete anonymity by not recording any and all IP addresses. Frankly, you don't even need an email address to sign up.
ChuckInaTruck